As a former freelance digital producer for Channel 4 News, I have written and cut video stories for their award-winning output online including Facebook and Twitter.

Videos are edited using Premiere Pro and After Effects.
WORLD NEWS SHAREABLES



As a former freelance Deputy News Editor and Producer at international news agency Associated Press Television News, I am passionate about making videos that encourage British and American audiences to take interest in and be more informed about issues around the world whilst scrolling through their busy Facebook feeds.
My most viral and widely shared piece was about the first time NFL players chose not to stand for the U.S anthem outside their own country, which took place in the UK at Wembley Stadium in October 2017.
It was the first news video posted on social media on this story, released whilst the match was still going - and resulting in travelling far and wide, particularly on Facebook.
Watch on Channel 4 News: NFL players just defied Trump outside the US
MEME AESTHETICS

Adopting visual language familiar to a digital native and applying it to breaking news stories to draw attention to users and bring a sense of urgency.

The most successful example is when I used meme bars for a statement by Barcelona FC footballer Gerard Pique, who started tearing up when he spoke about the violence that erupted during the Catalan referendum in late 2017.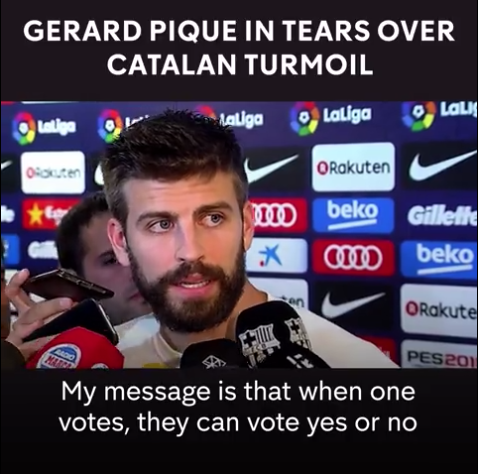 USER-GENERATED CONTENT
Combining video and audio recorded by ordinary citizens in some clips to reflect the reality of the situation on the ground.
I'm especially drawn to elements that are not pictures of violence from war zones and scenes of terror, which have become the most commonly used in news reporting.
Watch example: This is what a Japanese North Korean missile sounds like
UK POLITICS

I've also produced clips for the Channel 4 News Democracy, which also get shared and posted on the main Channel 4 News Facebook page.

I regularly monitor Prime Minister's Questions and debates in the House of Commons on issues related to Brexit, to source statements made by British MPs. The trick to getting viewers hooked on what might seem like a tedious political argument is to look for references which mention the public on contentious issues.

Watch example: Former Conservative Chancellor Ken Clarke, who campaigned to Remain, gives his views in a debate on the Brexit bill.