Atomic bomb survivors from both attacks gather for the last time

Conference photos are essential marketing materials for any organisation - but on paper, they lack visual interest. Yet sometimes, these images sometimes unexpectedly become a piece of history and become more than just a corporate function.


Every year, the national gathering of survivors from Hiroshima and Nagasaki's atomic bombings is a big event in the calendar for the community, especially as they are now scattered in different parts of Japan in their post-WWII life.
But on the eve of the 70th anniversary of the first bombing, this annual gathering of survivors from both bombings was to be the last one ever. But the media nor the public were made aware of this beforehand; this was only revealed in the introductory speech that opened the rest of the presentations.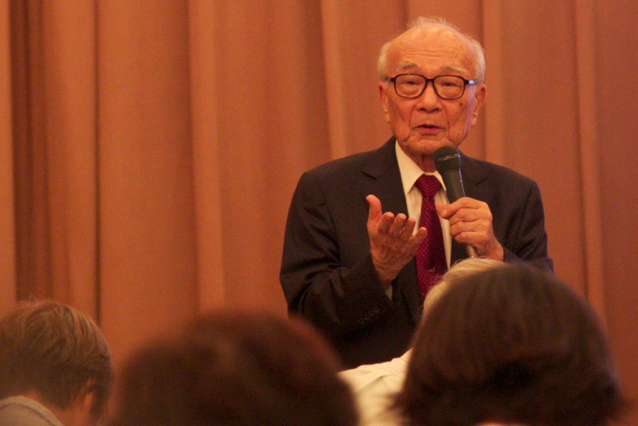 Terumi Tanaka expressed fears that they will not live to see their fight for a nuclear-free world come to life.

"As we Hibakusha reach an average age of 80 this year, our efforts lobbying for survivors' healthcare rights spanning over five decades has taken its toll.

We are no longer able to overcome physical and mental limitations that come with old age.

We need help from the younger generation to continue our legacy; if I had to pick one issue that would survive beyond my death, it would be the fight to eliminate nuclear weapons from this earth."

- Terumi Tanaka,
Nihon Hidankyo Secretary General,
2015

As personal stories were told and songs were sung throughout the day, survivors attending who weren't on stage were asked to stand up and make themselves known.
LEGENDARY DOCTOR
The oldest person in the room — who happened to be sitting behind me — was 98-year-old former doctor
Shuntaro Hida
, who had survived the Hiroshima A-bomb and extensively studied its after-effects.
Too frail to move, he greeted fellow survivors and young student activists. Smiling throughout, his enthusiasm was genuine; but a family member concerned by the amount of public attention swiftly pushed him away from the venue as the event drew to a close.
Read the full article on Motherboard, VICE's technology channel.